Palm oil really does pose health risks? ;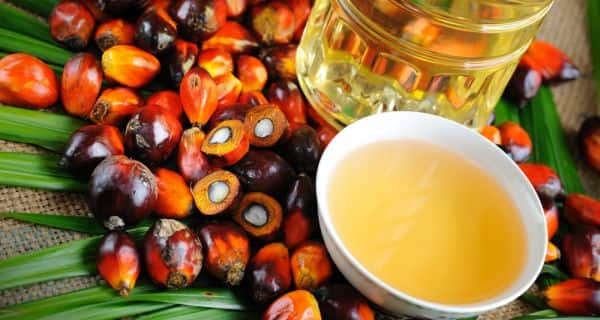 There is much debate over whether palm oil is good or bad for health. For a long time now, it has been touted as unhealthy as they are believed to increase the risk of heart disease. But is it really true? The research says otherwise. Palm oil is extracted from the fruit of the oil palm tree and is widely found in tropical regions of Colombia in South America, New Guinea, in the Pacific, Ghana in Africa and Indonesia and Malaysia in Southeast Asia. It is one of the most used in the world and all packaged items that eat oil contains palm oil. But it's really unhealthy?
Several studies tout as the healthiest vegetable oil. Here are some of the benefits of cooking palm oil.
1. rich in antioxidants : palm is rich in antioxidants such as vitamin E, beta-carotene. Antioxidants neutralize all free radicals in the body thereby preventing cell damage and help maintain healthy body tissues. Vitamin E not only helps to reduce cell damage, but can also reduce your risk of Alzheimer disease by protecting against free radicals in the brain. [1] More information about the benefits vitamin E
2. reduces cholesterol production : Palm tocotrienols is also rich in a type of vitamin E, that is known to inhibit cholesterol production in the body. [1]
3. Reduces hypertension : In addition to high salt intake, stress is also one of the risk factors for hypertension . According to a study, palm oil can reduce both hypertension and stress-induced high salt intake induced. [2]
4. Protect your heart : The protective effect of palm oil in the heart is widely debated. Apart from the fact that is rich in antioxidants and can reduce levels of blood pressure and cholesterol, palm oil also known to reduce platelet aggregation, reduce the risk of Atherosclerosis and arterial thrombosis. [1] Another literature review claimed that palm oil protects the heart and blood vessels from plaque and ischemic lesions. [3]
The disadvantage of palm oil
study says oxidized palm oil is not very healthy. rusty oil is the processing that usually comes to us. rusty oil palm, compared with fresh palm oil, has adverse effects on lipid profile of blood. also it is known to increase the free fatty acids, phospholipids and cerebrosides blood. The study also states that the oxidized oil palm is toxic to the reproductive system and damages the kidneys, lungs, liver and heart. [4]
Another study in several countries that analyzes the link between the consumption of palm oil and mortality from cardiovascular diseases claims that increased consumption of palm oil is associated with higher mortality rates of ischemic heart disease in developing countries. [5]
Another negative aspect of consumption of palm oil is its ecological burden. oil palm cultivation is often cited as the main reason for deforestation and destruction of habitat of various animal species such as orangutans endemic. Since palm oil is widely used in various industries, demand is very high. To meet this demand, there has been extensive tropical deforestation of land that has led to the loss of biodiversity in these areas. Currently, Malaysia has the highest levels of palm oil production per unit area and the highest relative number of endangered species. [6]
To prevent this loss of biodiversity and save the environment, it is believed that highlight the negative effects of palm oil in health is the propaganda of the ecologists.
Therefore, you should eat palm oil or not?
There are an equal number of studies supporting the palm is both good and bad regardless of the fact that some of them might simply be a propaganda. However, a study explicitly stated that the consumption of palm oil or fresh unoxidized can reduce the risks associated with it. [1]
You may want to read:
Image Source: Shutterstock
---
References:
1. DO Edem. Palm oil: biochemical, physiological, nutritional, hematological, and toxicological aspects: a review. Hum Nutr Food Plant. Fall 2002; 57 (3-4): 319-41. Review. PubMed PMID: 12602939.
2. Bayorh MA, Abukhalaf IK, Ganafa AA. Effect of palm oil in blood pressure
endothelial function and oxidative stress. Asia Pac J Clin Nutr. 2005; 14 (4): 325-39. PubMed PMID: 16326639.
3. He hates OJ, Ofori S, palm oil and O. Maduka the heart: A review. World J Cardiol. 2015 Mar 26; 7 (3): 144-9. doi: 10.4330 / wjc.v7.i3.144. Review. PubMed PMID: 25810814; PubMed Central PMCID :. PMC4365303
4. Ebong PE, Owu DU, Isong EU. Influence of palm oil (Elaesis guineensis) on health. Hum Nutr Food Plant. 1999; 53 (3): 209-22. Review. PubMed PMID: 10517280.
5. Chen BK, Seligman B, Farquhar JW, Goldhaber-Fiebert JD. multi-country analysis of consumption of palm oil and cardiovascular disease mortality for countries at different stages of economic development: 1980-1997. global health. 2011 Dec 16; 7: 45. doi: 10.1186 / 1744-8603-7-45. PubMed PMID: 22177258; PubMed Central PMCID :. PMC3271960
6. Turner CE, Snaddon JL, Fayle TM, Foster WA. Palm Oil Research context: identifying the need for biodiversity assessment. Hansen D, ed. Plus one. 2008; 3 (2): e1572. doi: 10.1371 / journal.pone.0001572
.

This article was originally published on thehealthsite, Read the original article here

Posted in: Cardiovascular diseases, Cooking oils, Diet, Fitness