Caesarean babies have weak immunity ;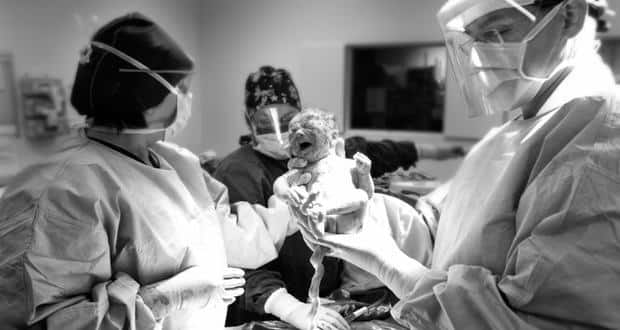 Children born through a caesarean procedure have different gut microbes that children born normally, according to a study. The researchers studied the effects of caesarean section births in the immune system of newborn mice. The study shows that puppies by Caesarean section had developed fewer cells that strengthen the immune system, said Camilla Hansen of the University of Copenhagen in Denmark. Newborns delivered vaginally are exposed to more bacteria from the mother of those delivered by caesarean section. (Read: exercises during pregnancy can prevent emergency caesarean section )
According to a hypothesis called the hygiene hypothesis, the immune system of newborn thus he learns to distinguish between their own harmless molecules and foreign molecules. Cesarean mice showed fewer cells that prevent the immune cells attack the cells harmless. Autoimmune diseases such as type 1 diabetes and allergies are caused by a similar overreaction by the immune system. (Read 😕 caesarean birth – is what we really need )
The findings were published in the Journal of Immunology .
What is the cesarean section?
Doctors usually recommend caesarean section is where the baby can not be sent through a normal vaginal delivery. This can happen in cases where the woman has twins (or triplets, etc.), a delivery failure is expected (the baby is descending legs first head), the baby is large, there is a problem associated with the uterus or placenta previa is detected (the placenta is low and covers the cervix). Sometimes, during normal labor, the doctor may decide to proceed to a caesarean section as well.
If there have been multiple cesarean deliveries, is likely to be the choice also during subsequent deliveries. However, if there has not been a single delivery by cesarean section with a horizontal incision, normal vaginal delivery is a possibility.
Because babies are getting bigger with each generation and pelvis of women are not growing proportionally, doctors advise teens to get proper exercise and squatting more frequently. This helps your pelvis to grow and can help avoid caesarean sections later in life.
Caesarean section is performed under the effect of an epidural or spinal to be numb from the waist down. An incision in the horizontal skin is just above the "bikini line" and the abdominal muscles are separated. Generally, a horizontal incision is made in the bottom of the uterus although there may be cases where it may be necessary a vertical incision. the baby was born after her uterus and the cord is cut. the uterine incision is closed with sutures (stitches) resorbable material. the skin sutures will be removed after three to seven days. antibiotics they can be administered during the procedure through an IV read more about Understanding induces labor and cesarean sections
may also liek to read.


This article was originally published on thehealthsite, Read the original article here

Posted in: Caesarean, Caesarean birth, Caesarian section, In the news, pregnancy