Healthy Recipe India: Beet Salad ;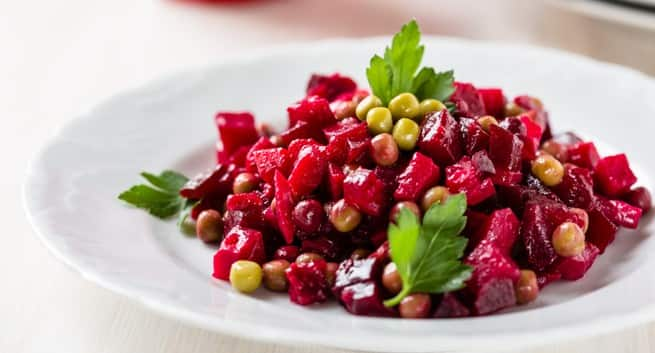 This is a family favorite and has been passed down from generation to generation. The salad is refreshing, tasty and colorful and goes well with every kitchen. Beets have a beautiful red color to them and are loaded with benefits for diabetics, anemic pregnant women and hypertensive patients also. It also improves sexual stamina. This festival season add the red color of your plate with this quick and easy recipe for the beet salad.
Ingredients
2 beets, grated
2 tablespoons finely chopped cilantro
1 tomato, diced into small pieces
¼ teaspoon sugar
½ teaspoon chili powder
½ tsp coriander powder
¼ teaspoon cumin powder
pinch asafoetida or Hing
½ lime
Salt to taste
Method
grate the beets on a bowl.
Add the cilantro, tomatoes and sugar and mix well.
Mix the remaining ingredients and mix with your fingers so that all the ingredients are well mixed.

lemon juice

Squeeze and all the salad to sit for 10-15 minutes before serving.
The ingredients beets slightly soften and add flavor.
serve main course or enjoy with pita bread or just as it is with a bowl of soup for dinner.
Tips:
You can add a tablespoon toasted sesame seeds to the salad just before serving for a nutty flavor. More information about the benefits of sesame seeds here .
can substitute with cabbage beet finely chopped or grated carrots and follow the same recipe for salad variations.
Image Source: Shutterstock (Image for representation only)
---
This article was originally published on thehealthsite, Read the original article here

Posted in: Beetroot, Diet, Fitness, Healthy recipes, Healthy salad recipes