Use Ashwagandha leaves for weight loss ;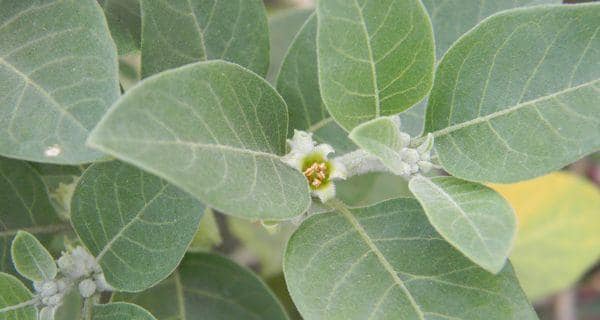 Ashwagandha is a great way to accelerate the process of weight loss, but there remember that only the leaves of the plant have this capability. The root tends to cause weight gain.
How does it help?
Aswagandha leaves have a number of health benefits including its adaptogenic properties (helps your body adjust to the onslaught of several harmful factors in the environment such as pollution and stress ). Ability to strengthen the immune system, heal the damage caused to the body due to stress and even helps relieve conditions like cough, acidity, sugar levels in the blood [2] and fatigue. What's more the plant is also a potent laxative and improves digestive function [1]. You may also want to read about health benefits of Ashwagandha .
Due to its action on the digestive system, this fact sheet helps accelerate the process of losing Weight . According to ayurvedic texts have Aswagandha leaves regularly helps rid the body of toxins and expelled love (deposited toxins) of the stomach lining. This in turn helps to improve the functioning of the digestive system and triggers your metabolism, which helps in weight loss. Apart from Ashwagandha can use Kalonji seeds to lose weight as well. Here's how .
How to use:
Take two whole leaves of cultivated plants ashwaganda slightly crush in a mortar and turn it into a small ball. Now drink this with warm water on an empty stomach first thing in the morning. Do this on a daily basis for two weeks to see a difference.
A word of caution: Ashwagandha leaves can only help if a control over your diet is maintained and exercise regularly. Moreover, this is just a home remedy and not be used as medical advice. Please consult a physician before using this or any other home remedy.
Image Source: Getty Images
---
References:
[1] secrets of Indian herbs for good health. Acharya BALAKRISHNA. Divya Prakashan, 2008. 420 pages
[2] Linder, S. Withania somnifera: winter cherry, Indian ginseng, Ashwagandha [online]. Australian Journal of Medical Herbalism, vol. 8, No. 3, 1996: 78-82
.

This article was originally published on thehealthsite, Read the original article here

Posted in: Ashwagandha, Fitness, Herbal remedies, herbs, Home remedies, Natural remedies, Weight loss