Ramadan Iftar Healthy Recipe: Couscous salad confetti ;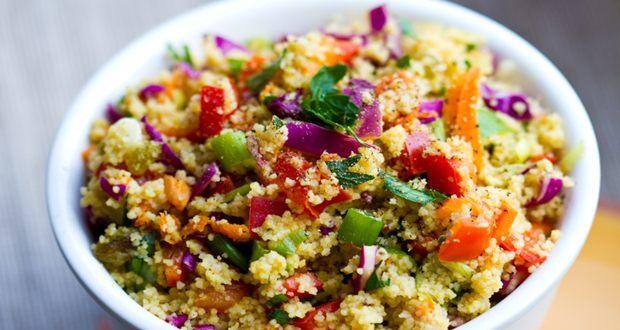 Iftar the celebration dinner after a day of fasting needs a healthy and delicious drink and this confetti couscous salad is just that. This salad is rich in complex carbohydrates, fiber, zinc and B vitamins A single serving also provides about 2 to 3 grams of protein. The measures mentioned in this recipe makes about eight servings of 1 cup.
Couscous is pasta of North African cooking almost instantly and makes a beautiful and tasty salad. whole wheat couscous is sold in health food stores and some supermarkets.
Ingredients
1 1 / 2 cups dry whole wheat couscous

2 cups boiling water

3 to 4 green onions, finely chopped, including tops

1 red pepper, seeded and finely chopped

1 grated carrot

1 to 2 cup finely shredded red cabbage

1 / 2 cup finely chopped fresh parsley
1 / 2 golden cup raisins or chopped dried apricots

1 juice of 1 lemon

1 / 4 cup seasoned rice vinegar

1 tablespoon olive oil

1 teaspoon curry powder

1 1 / 2 teaspoons salt
Method
In a large bowl, combine the couscous and boiling water. Stir to mix, cover and let stand until it has absorbed all the water, 5 to 10 minutes. Fluff with a fork.
Add green onions, peppers, carrots, cabbage, parsley, and raisins or apricots.
In a small bowl, whisk together lemon juice, vinegar, oil, curry powder and salt. Add to salad and toss to mix. Serve at room temperature or chilled.
Calories 1 cup
Calories: 194

Fat: 2.1 g

saturated Fat: 0.3 g

Calories from Fat: 9.8%

Cholesterol: 0 mg

Protein: 5.2 g

Carbohydrates: 40.2 g

Sugar: 10 g

Fiber: 4.2 g

Sodium: 283 mg

Calcium: 33 mg

Iron: 1.1 mg

Vitamin C: 40.9 mg

Beta carotene: 1157 mcg

Vitamin E 0.7 mg
Source: healthy for life to prevent and treat diabetes by Patricia Bertron, RD power;. Recipe by Jennifer Raymond, M. S., R. D.
Image Credit :. Kathy Patalsky
Recipe: The Physicians Committee for Responsible Medicine ( www.pcrm.org )
Read also:


This article was originally published on thehealthsite, Read the original article here

Posted in: Couscous Confetti Salad, Fitness, Healthy Ramadan Recipes, Healthy recipes, Iftar recipe, Ramadan, Ramadan 2014, Ramadan diet, Recipes