Ramadan Iftar Healthy Recipe: Rainbow Salad ;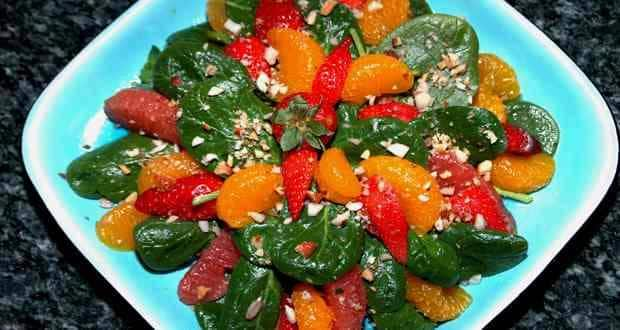 You want to break the fast of a healthy but tasty way? Rainbow salad is just the dish for Iftar. This colorful salad is loaded with vitamin C, beta carotene and other antioxidants that will provide all the extra nutrition to compensate for the day. These foods also provide iron, calcium, fiber, and a modest 2 grams of protein per serving. Makes 12 servings ½ cup. cabbage and carrots together to make a beautiful and delicious salad.
Ingredients
2 cups of green shredded cabbage

2 cups red shredded cabbage

2 carrots, grated or julienned

2 stalks celery, sliced fine

3 green onions, sliced ​​

1 apple, finely diced or julienned

1 tablespoon lemon juice

1

/

2

drink

tofu May

or other dairy- and egg substitute without mayonnaise

1

/

3

cup

apple juice concentrate
Method
Combine cabbage, carrots, celery and green onions in a salad bowl.
In a separate bowl, mix the apple with lemon juice. Add to the salad.
Add tofu May another dairy- and replace mayonnaise and apple juice concentrate and mix well without egg.
If possible, cool before serving.
calories per serving
Calories: 39

Fat: 0.4 g

saturated Fat: 0.1 g

Calories from Fat: 9.2%

Cholesterol: 0 mg

Protein: 1.3 g

Carbohydrates: 8.4 g

Sugar: 5.9 g

Fibre: 1.3 g

Sodium: 87 mg

Calcium: 25 mg

Iron: 0.5 mg

Vitamin C: 13 , 1 mg

Beta carotene 975 mcg

Vitamin E 0.2 mg
Source: Eating healthy for life of children by Amy Lanou, Ph.D;. Recipe by Jennifer Raymond, MS, RD
Photo and courtesy recipe: The Physicians Committee for Responsible Medicine ( www.pcrm.org )
See also:
for more articles on Ramadan, visit our section Ramadan . Follow us on Facebook and Twitter for all the latest updates! For free daily health tips, subscribe to our bulletin . And to participate in discussions on health topics of your choice, visit our forum .
This article was originally published on thehealthsite, Read the original article here

Posted in: Fitness, Healthy Ramadan Recipes, Healthy recipes, Iftar recipe, Rainbow salad, Ramadan 2014, Ramadan diet, Recipes